Being Beastie, Volume 2
A benefit for the Leukemia & Lymphoma Society
Saturday May 31, 2014 at Duke's Bohemian Grove Bar, doors open at 10pm
$5 minimum suggested donation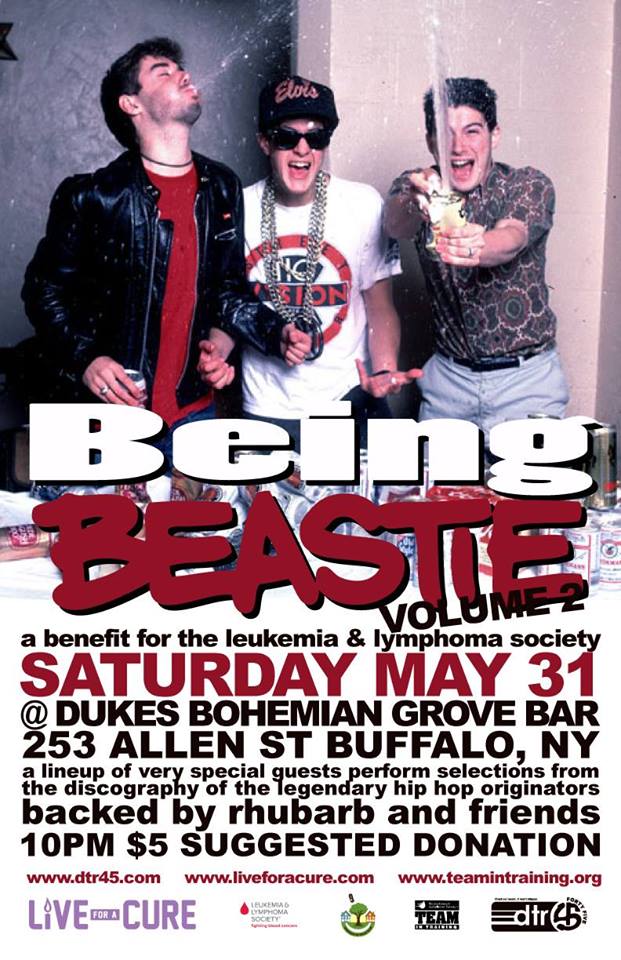 Check your head into the revival of the wildly successful cancer awareness-raising benefit "Being Beastie." On May 31st at DBGBs, Buffalo's dynamite producer-promoter team, Damon Bodine and Tony Caferro, are kicking off the sixth installment of the tribute series. 

Following his diagnosis and now remission of Hodgkins Lymphoma Cancer, Damon Bodine has dedicated his life to promoting blood cancer awareness. With the 26.2 mile NYC Marathon under his belt, as well as several half marathons, the Buffalo native and former concert guru now has his sights set on the October Leukemia & Lymphoma Society Marathon. With your help, the finish line to beating the disease is that more real.
In memory of the legendary Beastie Boys founder MCA and his own cancer battle, the hip-hop karaoke styled event will pay homage and make some noise. As Bodine says, "They've shown me that this cure will not exclusively come from laboratory research and testing. Rather it begins in the hearts and minds of all of us who wish to see a safer and more prosperous world for future generations."
100% of the proceeds from Being Beastie will be donated to the Leukemia and Lymphoma Society (LLS), the world's largest voluntary organization dedicated to funding blood cancer research.. For a worthy cause, everyone should Stand Together and Pass the Mic with local heroes Rhubarb, who will be backing the Beastie Boys track of your choice.